Keywords are the words and phrases that people type in search engines. And keyword research is the process of finding and analyzing those words and phrases.
Here is a quick overview of what we're going to learn in this handbook…
Keyword Research Essentials
Think About Your Goals
List of Seed Keywords
Expanding the List With Mid & Long Tail Keywords
Keywords Analysis
Search Intent
Keyword Strategy
Tools you'll need for keyword research
Before we start with the guide, let's start with a few keyword research essentials (basics).
Keyword Research Essentials
These are the five types of keywords you should know…
Seed (or Head) keywords — keywords with three words or less, huge search volume, high competitiveness, and low conversions.
Long Tail keywords — keywords with three or more words, low search volume, low competitiveness, and high conversions.
Branded terms — keywords that include a brand's name or other branded terms.
Product keywords — related to specific brands, products, or services.
Geotargeted keywords — keywords that target local searches specific to a neighborhood, city, state, or country.
Also, while long tail keywords have low search volume, when you add them together, long tails actually make up majority of all Google search queries.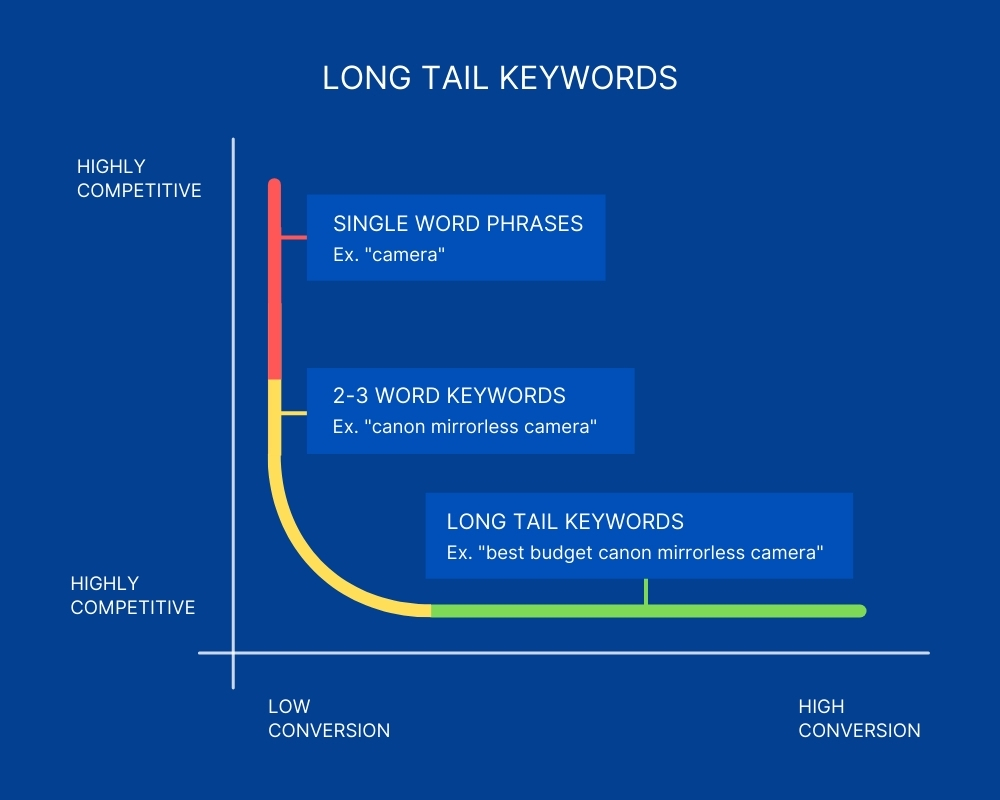 Now, there are multiple ways of doing keyword research — I will focus on the one I use…
Think About Your Goals
Before building a list of keywords, it's important to know keyword research goals.
Like do you need keywords for your blog, business website, eCommerce store, local store, or affiliate website?
This is important to avoid targeting irrelevant keywords — which are easy to rank but will generate no significant revenue for you.
List of Seed Keywords
To make a list of seed keywords, simply think of your core products or services.
For example: if you're in the finance niche, the seed keywords will be…
banking
investing
mortgages
insurance
personal loans
credit cards
You can also use Wikipedia to find seed keywords.
Simply enter your broad keyword in Wikipedia and look for relevant terms like this:
You can also look for seed keywords on industry-specific forums, Amazon, Reddit. These sites can provide you a ton of useful information about your audience.
Expand the List With Mid & Long-tail Keywords
Now let's expand the seed keywords you have collected with keyword research tools.
I will show you how to do this with both paid and free tools. You can use any one tool or combine multiple tools to get more keyword data.
1. Ahrefs
Enter the seed keywords one by one in Ahrefs Keyword Explorer.
Ahrefs will give you a summary of this keyword with details like keyword difficulty, volume, CPC, clicks, etc. (I will explain these terms in the next section).
Click on the "Having same terms" in the sidebar, and you will get a massive list of keywords — all related to the entered seed keyword.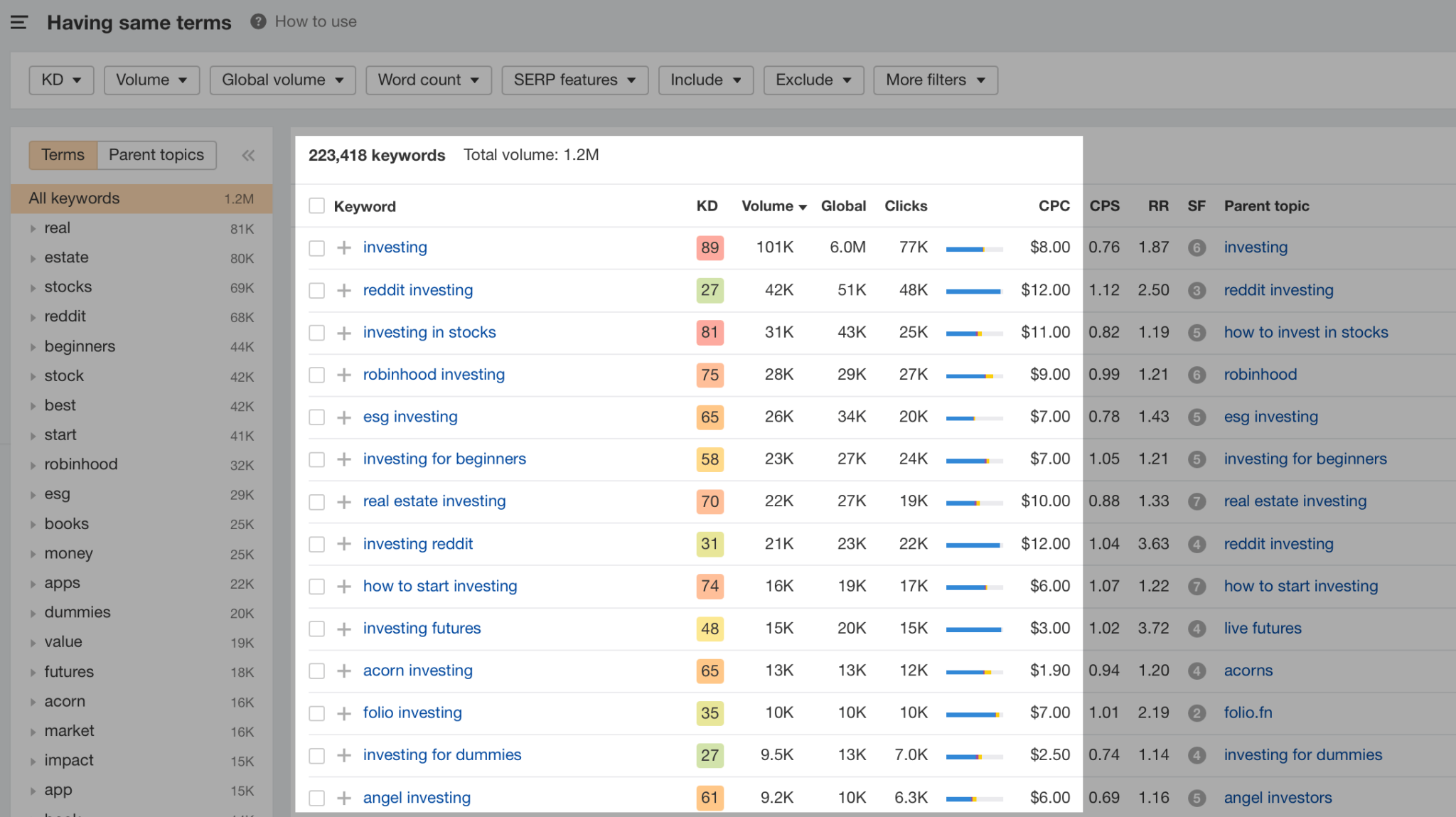 Now, based on the seed keyword, you will get hundreds and thousands of keywords — but we cannot use all of them right.
In the next section, I'll tell you how you can narrow the list down further to get a manageable amount of high ROI keywords, but first let's see how you can research keywords with other tools like Semrush, Answerthepublic, etc.
2. Semrush
Go to Semrush Keyword Magic Tool and enter your seed keyword.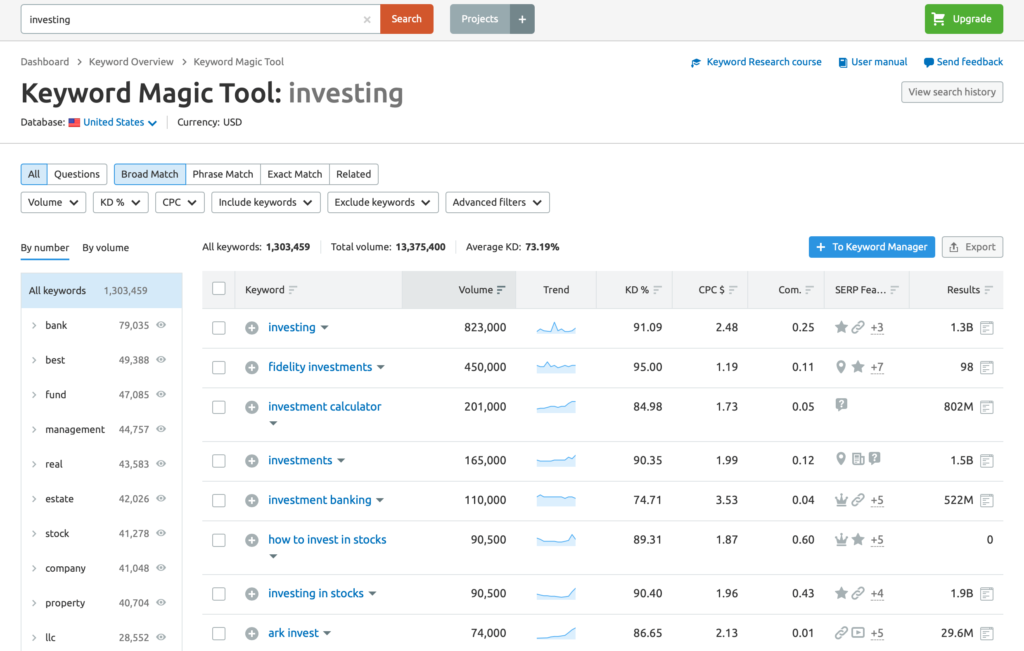 Filter the keywords based on the broad match, phrase match, exact match, and related. You can also select the questions filter to get all the question-based long-tail keywords.
3. Grow Keywords
This is an amazing free keyword research tool that you can use to get questions, comparison, products, and other types of keywords.
Simply enter your seed keyword, select the types you want and click on the search icon.
You can click on the plant icon to expand keyword variations further or click on the bin icon to delete any unwanted keywords.
Once you have a list of keywords, click on the "Download" to download the full list.
4. Answerthepublic
This is another free tool that gives impressive question-based keyword ideas.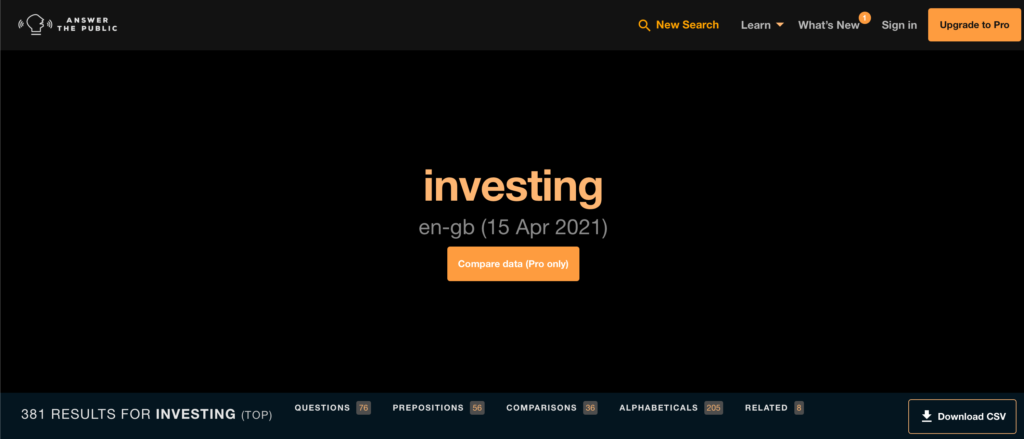 All the keywords are taken directly from Google autocomplete data and are categorized properly, so it's easy to filter them.
5. Keywordtool.io
The free version of keywordtool.io doesn't display the search volume, trend, or CPC, but you can export all the keyword ideas, suggestions, and questions.
You can collect more keyword ideas with different search engines like YouTube, Bing, Amazon, etc.

Analyze the Competition
With SEO tools like Ahrefs or Semrush, we can also look at the competitor's website and see what keywords they're ranking for in Google.
To do this, go to Ahrefs Site Explorer and enter any of your competitor's websites.

Then click on Organic Keywords in the sidebar.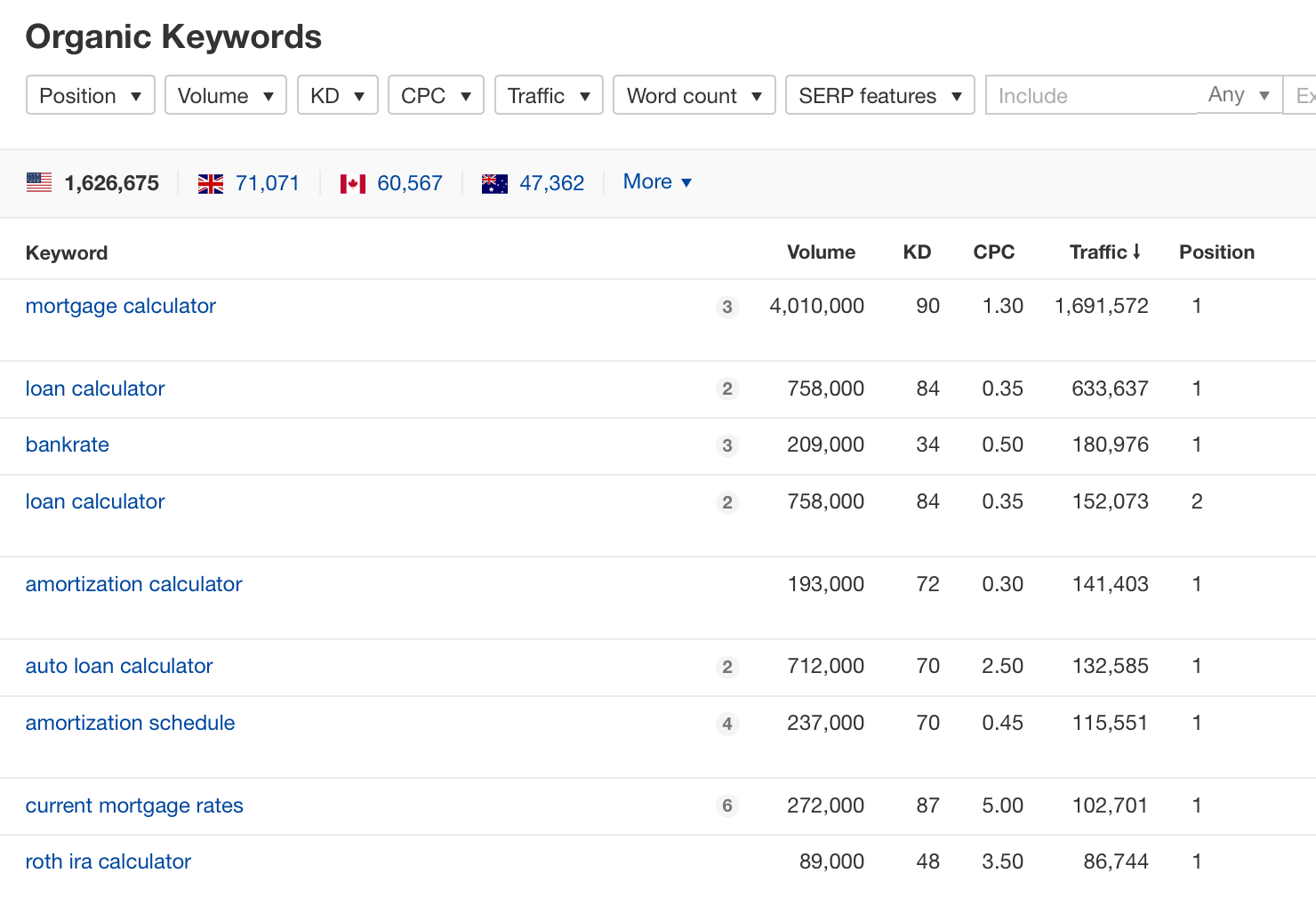 This will give you a list of all the keywords your competitor website is ranking for in Google.
You can filter this list and export it to Excel or Google Sheets.
Note
If you don't know your competitors, perform a Google search with the seed keywords and see websites ranking on the first page.
Keywords Analysis
Now that we have a huge database of keywords, let's understand a few basics to sort the list and get a handful of keywords to target.
1. Search Volume
Search volume is the average amount of searches for a given keyword in a month.
Higher the search volume of a keyword, the more clicks you could receive if you rank for that keyword.
2. Difficulty
It is a way of measuring how complicated a keyword actually is to rank for in Google. The higher the number, the more difficult a keyword is to rank for.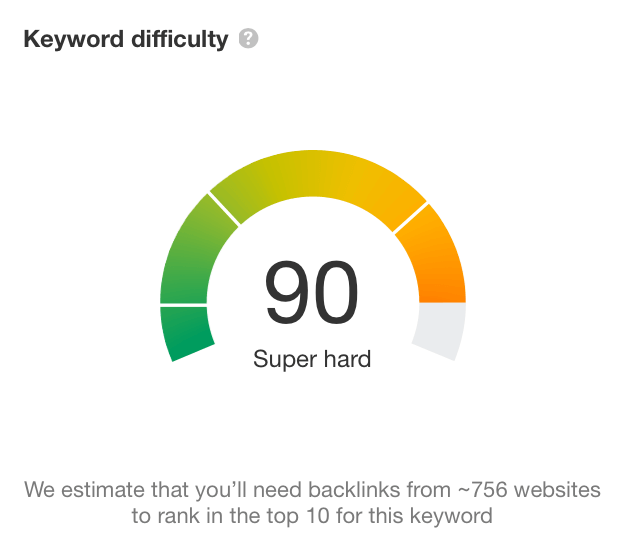 Ahrefs uses the number of backlinks to the top 10 ranking pages to decide a keyword difficulty, and Semrush uses the authority of domains for keyword difficulty estimation.
While there's no one way to decide this metric, and it's better to manually analyze SERPs to gauge the difficulty, it's a good way to sort the keyword list in the first stages and start the manual analysis once the list is down to a manageable number (like ~100 to 500 keywords).
3. Clicks
It is the average number of clicks a keyword gets from the search results.

The CPS (clicks per search) here is 0.61 or 61% — which means while the search volume of this keyword is 1,600, even if you rank on top for this, you'll be able to get only around 962 visitors per month.
4. Traffic Potential
When you rank for your targeted keyword in Google, you don't rank for that ONE keyword only. But you will rank for around 1,000 related keywords more.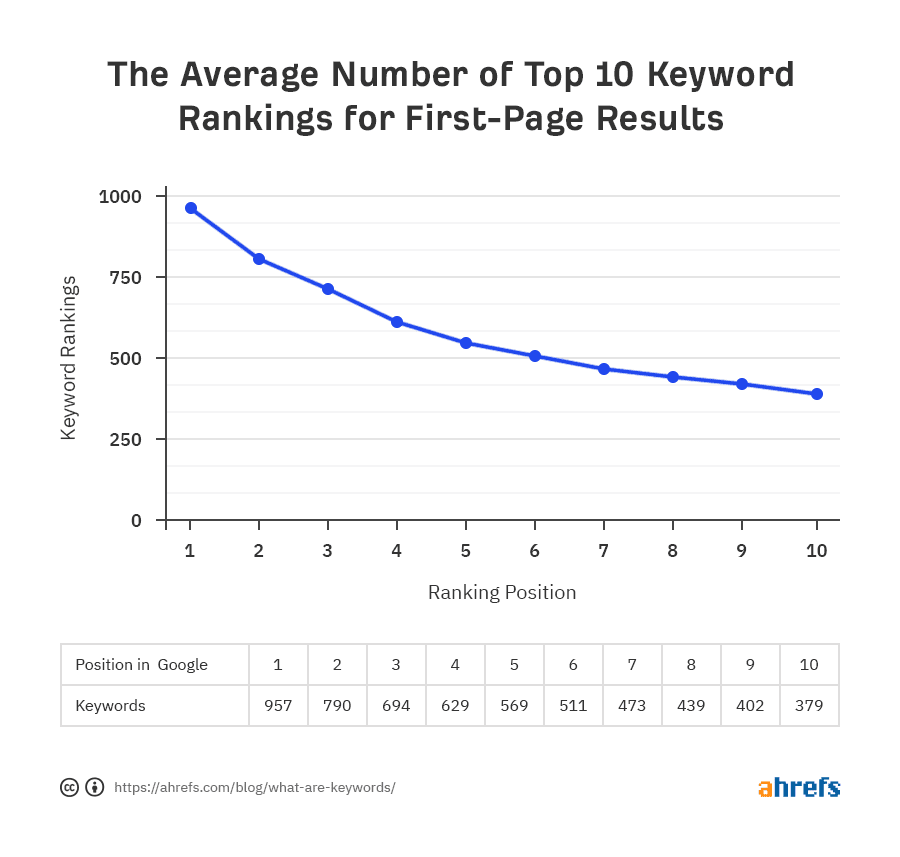 So enter your targeted keyword in Ahrefs, and scroll down to the SERP overview column. There you can see the traffic received by the top pages when ranking for that particular keyword.
In this case, the "investing money for beginners" keyword search volume is just 1,600, and CPS is 0.61, but still, the top result of this keyword is getting over 35,000 monthly visitors.
This is because the Investopedia page is ranking for 2,800+ keywords, and that is why it's a good idea to check the traffic of top-ranking results to estimate the total search traffic potential of a keyword.
5. Cost Per Click (CPC)
Cost per click tells you the amount advertisers are willing to pay for each ad click from a keyword.
You can use CPC to see how much monetization potential there is in the niche you're targeting.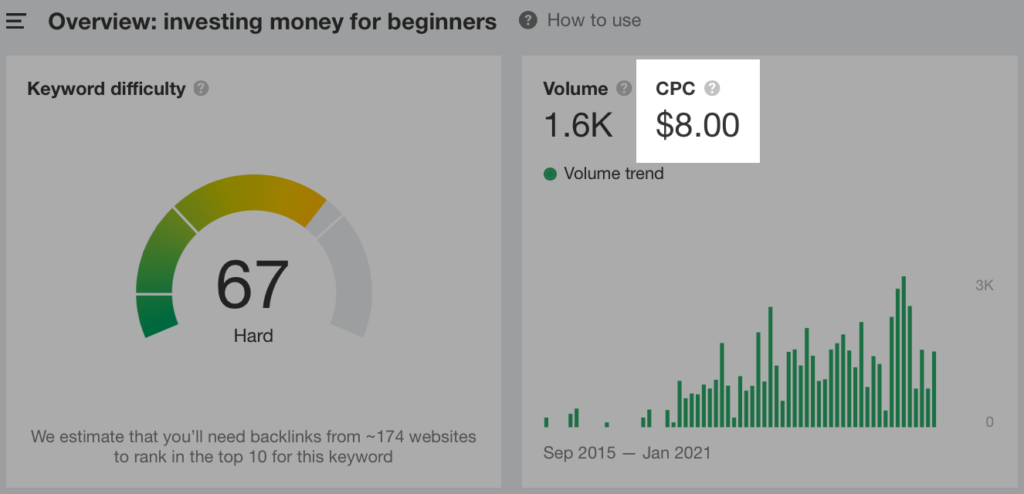 For the "investing money for beginners" keyword, the CPC is $8, which means there's good value in this keyword.
6. Keyword Trends
This is not something I check for all the keywords, but if you're planning to enter a new niche, it's worth checking the trends.
Visit Google Trends, and enter your seed keyword.
If the interest graph is increasing or at least is same in the past 1 to 5 years, then it's a good niche to enter.
Note
The numbers (like search volume, CPS, etc.) provided by keyword research tools are just an estimation, and actual numbers are usually very high.
So if you find keywords related to your business with zero or less than 100 search volume, you can still target those keywords.
And don't ignore long-tail keywords just because they have low search volume; sites like AirTable, Airbnb, Tripadvisor, Canva, etc., use these keywords to dominate the SERPs (search engine results pages).
Finalizing the Keywords List
Let's see how to sort and prioritize the keywords from the list we have collected.
Decide the Keyword Strategy
Once you have an initial list of keywords, take a few terms and perform a Google search with them to see the top website's ranking.
If the websites on top are all super authoritative (like Forbes, Amazon, Walmart, Investopedia, etc.), it's best to start with mid and long-tail or question-based keywords with low to medium competition.
Because sometimes, some keywords are dominated by super-high authority sites that have been around for years, and you cannot outrank them no matter what.
If your site already has some authority (like if you're a SaaS site, business site, etc.), then you can start with a combination of seed and mid-tail keywords.
Keyword Sorting
I am using Ahrefs to show you the keyword sorting, but the process is pretty much same for all the keyword research tools.
Open the keyword research tool (or open your Excel file if you have exported the keywords).
We're going to see two different keyword prioritizations now:
1. Long-Tail Keywords Sorting
This is for sites starting from scratch with no authority.
Set the word count to a minimum of 4 words and a maximum KD to 20 (or more if you want to target more competitive keywords). This will give you a sorted list of a few thousand keywords.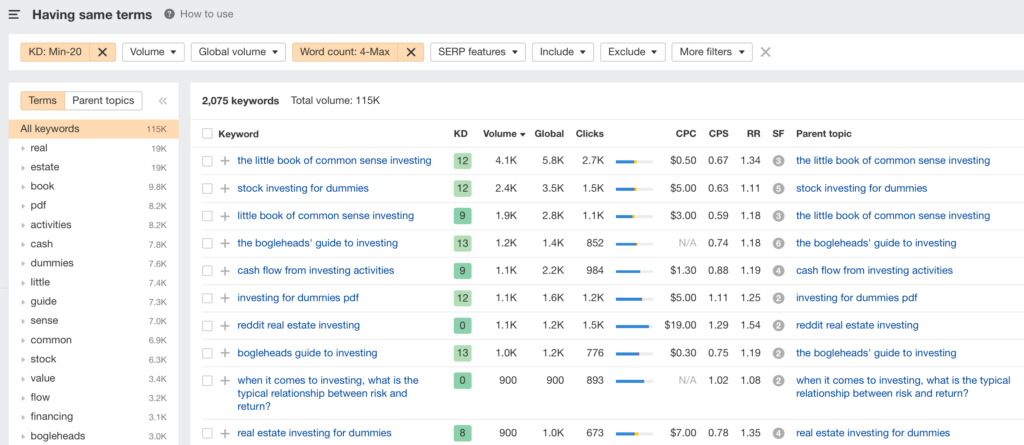 You can also click on the "Questions" to get a list of question-based keywords which are relatively easy to rank for.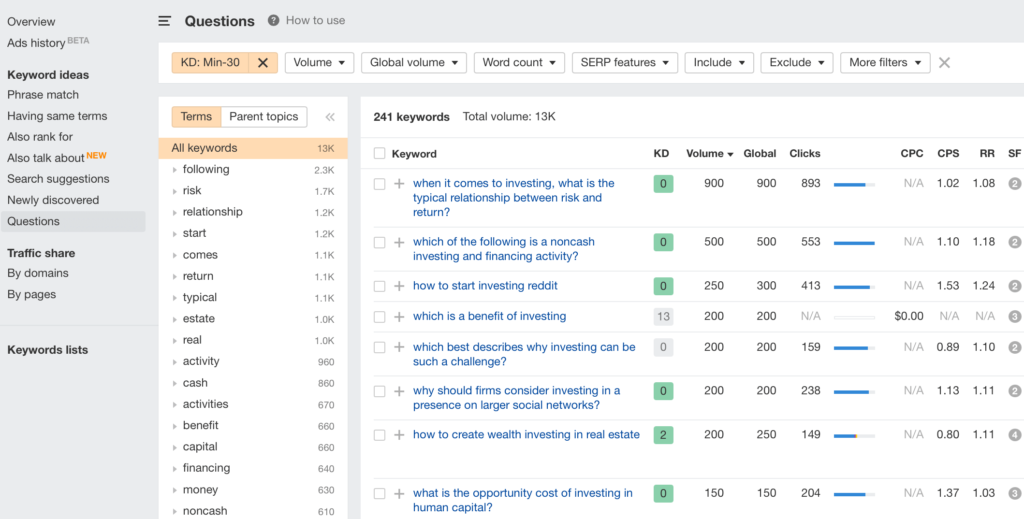 You can sort this list further based on the CPS or CPC and then move to the next section.
2. Mid-Tail Keywords Sorting
This is for sites already having a few pages ranking in Google.
Set the volume to a minimum of 100 and KD to a maximum of 60.
This will give you keywords with low to medium competition and good search volume.
Note
You can also experiment with other filters like phrase match, also rank for, search suggestions, and newly discovered to get more keyword ideas.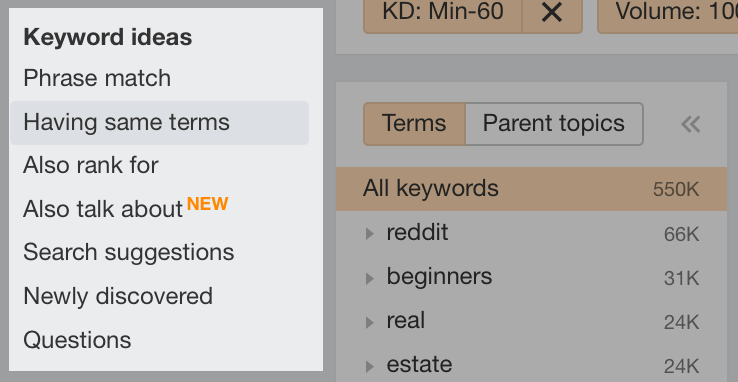 ————
Once you have sorted the list, export the keywords to Excel or Google Sheets and remove columns like country, last update, SERP features, paid & organic clicks, and searches without clicks.
Look for Search Intent
Before finalizing the keywords, it's good to analyze the SERPs manually and see what a searcher is trying to accomplish with the search.
Simply Google the keyword and look at what pages are ranking on top. Are they matching your products or services? Or are results based on information like a how-to guide? Or is Google ranking videos only?
For example: Google is ranking all how-to guides for the keyword "investing in stocks," which means users are looking for exact steps on how to start with stocks investing.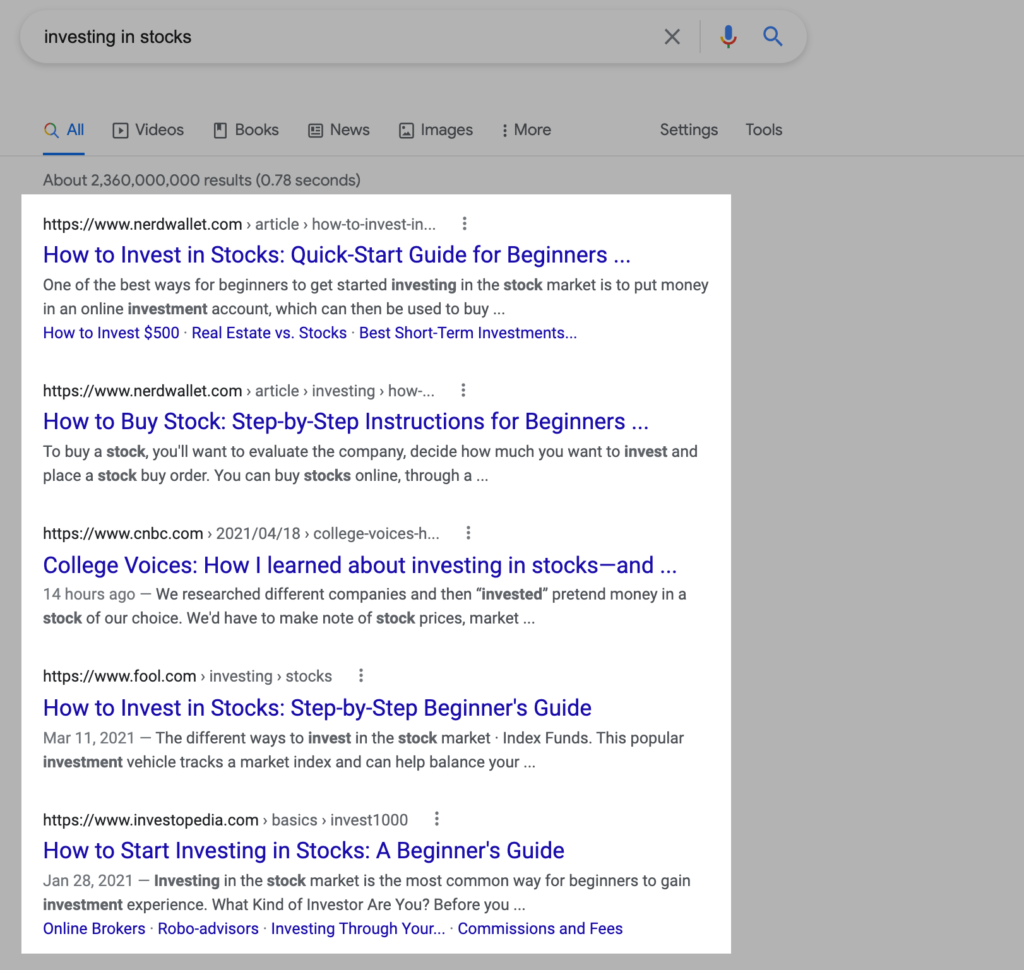 If the keyword is navigational (like a company or brand name), you can avoid the keywords as the users will probably want to go to specific sites only.
Similarly, for an affiliate website, it's better to avoid keywords having Amazon (or other eCommerce) product pages on the top, as it means the searchers are looking to directly buy the products and not read the product reviews.
Start Building the Pages
Now that you have a list of keywords, you can start building pages for each keyword.
If you have similar keywords in your list, perform a quick Google search and see if the same pages are ranking or different ones.
For example: for keywords "investing in stocks" and "how does investing in stocks work," different pages are ranking — so it's a good idea to build a page for both keywords separately.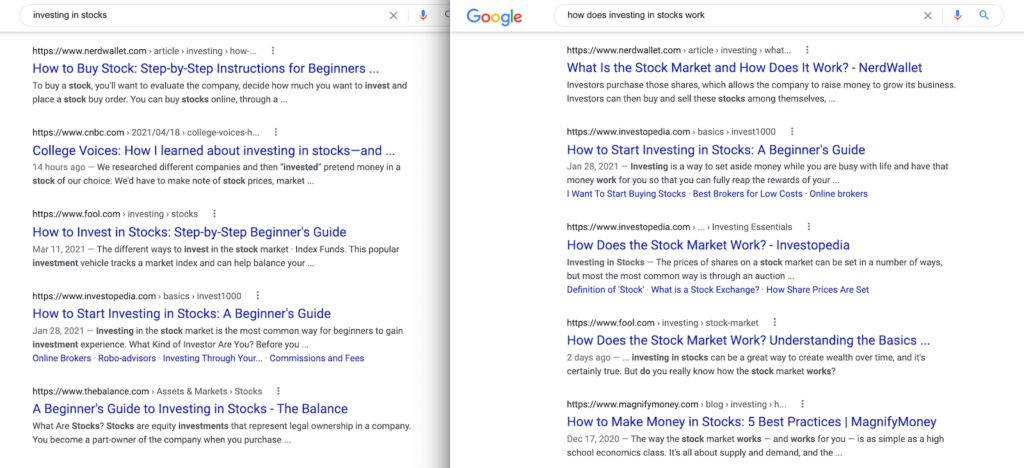 If same pages are ranking, then you can use the keywords in one article only. But if the results are different, then target individual pages with those keywords.
Focus on the Keyword Flywheel
By regularly performing keyword research, you can uncover new trends in your industry and new keyword rankings of your competitors.
For example: products get newer models and updates after some time, so if you have an eCommerce or affiliate site, then keeping the content updated will help you a lot.
So it's a good idea to continuously research keywords to find relevant opportunities.
Final Words
I want to end this handbook with a quote by Jordan Kasteler…
"If you don't know the user intent behind the keywords you're optimizing for, then you're doing it wrong. Also, if you are optimizing for keywords vs. the needs of the user, then you're doing it wrong."
So while targeting keywords, make sure you're providing value and writing content that can deliver something genuinely useful to your readers.
———
Thanks for reading. I hope you find this useful.
If you liked this handbook and want to learn more on SEO-related topics, joining my newsletter is really appreciated, or share it with your friends on social media.