Get an overview of SEO in just a few minutes with this SEO glossary guide, written in plain, no-nonsense language.
Here are the A-Z SEO terms…
A: Architecture
B: Backlinks
C: Crawling
D: Duplicate Content
E: E-A-T
F: Featured Snippets
G: Google Algorithm Updates
H: HTML Tags
I: Internal Links
J: Link Juice
K: Keywords
L: Local SEO
M: Mobile SEO
N: Negative SEO
O: On-Page SEO
P: Pagespeed
Q: Queries
R: Rankbrain
S: SEO
T: Technical SEO
U: User Intent
V: Voice SEO
W: WhiteHat SEO
X: XML Sitemap
Y: Youtube SEO
Z: Zero-Click Searches
1. Architecture
Refers to the overall layout and structure of a website.
Website architecture is how the website's technical, functional, and visual components are built and organized.
Site structure deals with a website's hierarchy and how the website's pages are grouped, linked and presented to a user.
An optimized site architecture helps search engines efficiently crawl and index all the pages of a website.
A flat architecture is usually recommended for websites as it makes it easy for users and search engines to navigate the site in 4 clicks or less.
2. Backlinks
Still, the most critical factor in SEO.
A backlink is a link from one website to another. Backlinks are also known as "inbound links" or "incoming links."
Backlinks are external links to a website. Search engines use backlinks to crawl the web and to rearrange the linked pages in their indexes. Websites (and pages) with a high number of backlinks tend to rank higher in search engines.
Google and other search engines have evolved a lot in recent years; still, backlinks are a key ranking single.
New websites with quality content but no backlinks can have a hard time ranking in search engines. Backlinks are a way for search engines to determine the authority and popularity of a website. Backlinks also help search engines discover the content by revisiting pages they already know to check for new links.
There are two types of backlinks: nofollow and dofollow. A link with a Nofollow tag tells search engines to ignore that link. Dofollow links (by default, all links are dofollow) hold the most value and help improve search engine rankings.
3. Crawling
The first step to finding out what pages exist on the web.
Search engines use crawling to find new and old content on the world wide web.
There is no central registry of all the available pages on the Internet, so search engines use bots (or crawlers) to always look for new pages to add them to their list of known pages.
The crawlers discover new content by crawling all the existing and new pages they find and recording every link on the scanned pages. Once a URL is discovered, the search engine bots visits or crawls the page to find out its contents. Then the page is rendered, analyzed, and processed by the search engine algorithms.
If a page isn't accessible to Google and other search engines, it will not be crawled and indexed.
4. Duplicate Content
Content that appears in more than one URL.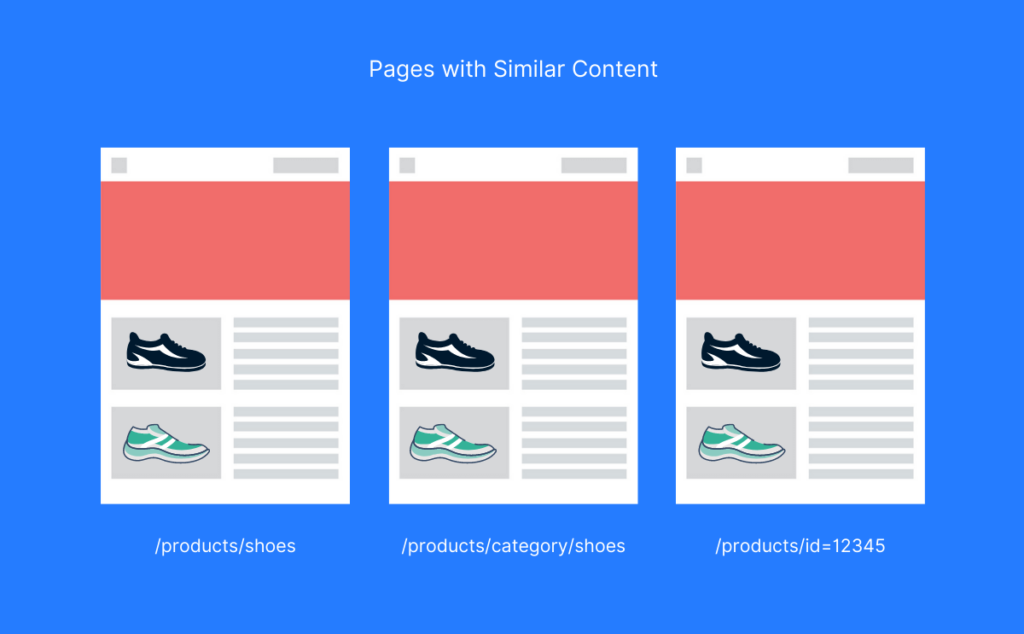 Any content available at two or more locations (URLs) is considered duplicate content. It can be on multiple websites or different pages of one website.
Duplicate content can be accidental (some CMS can generate multiple pages with the same content) or intentional (the result of someone stealing texts from other web pages).
Search engines like Google don't want to rank pages with duplicate content to provide the best results to users. But duplicate content causes issues for search engines as they get confused about which content to rank on top.
This can lead to lower rankings for all the URLs, or sometimes even the duplicate URL can rank above the original one.
Google has also stated that if duplicate content is used to manipulate search rankings, the website involved in the action can be penalized. This is rare, but possible.
5. E-A-T
Expertise, Authoritativeness, and Trustworthiness.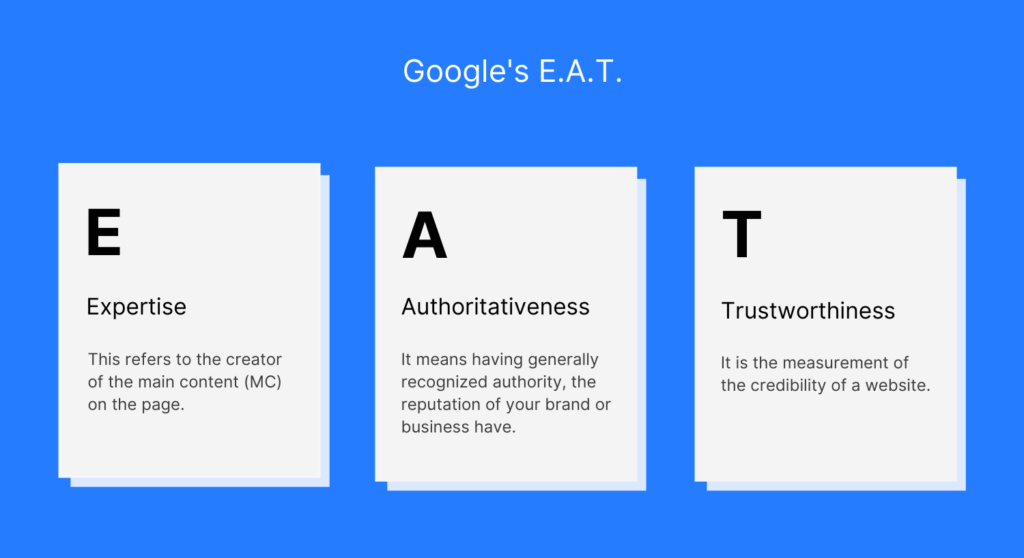 E-A-T is an important ranking factor mentioned in Google's Search Quality Raters' Guidelines. It stands for Expertise, Authoritativeness, and Trustworthiness.
Google uses EAT to evaluate web pages and reward websites that produce high-quality content, and sites that create low-quality content get less visibility.
EAT is especially important for YMYL (Your Money or Your Life) topics such as medical, financial, or legal advice.
Expertise in the EAT is evaluated primarily at the page level, not at the website level. This means that the creator (author) of the content should be a subject matter expert.
Authoritativeness is about the reputation of the website (individual or business).
Trustworthiness is related to the legitimacy, transparency, and accuracy of the website and its content.
6. Featured Snippets
Short snippets of text that appear on top in Google.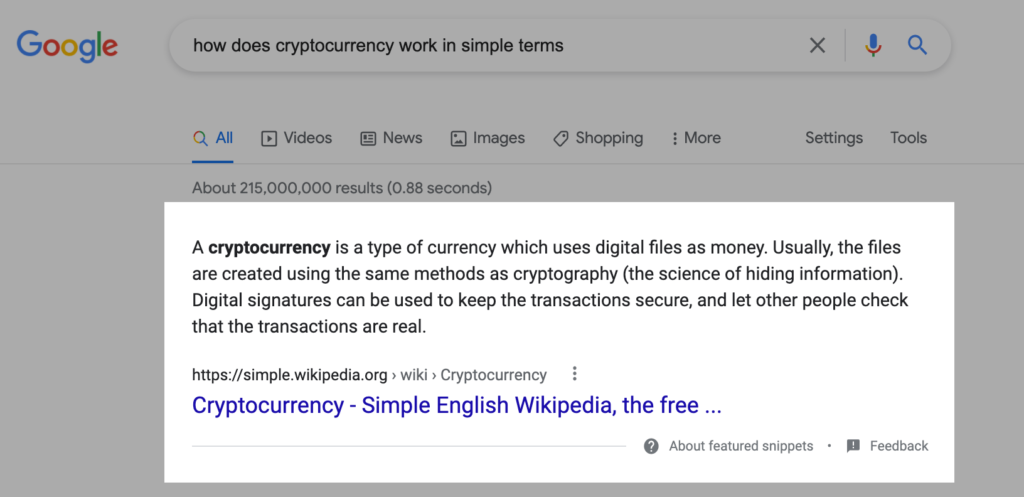 A featured snippet is a short snippet of text that appears at the top in Google to answer the user's query without them having to click on a specific result. The content inside featured snippets is pulled from the pages ranking on the first page of Google.
Featured snippets are also known as "Position # 0" as they are shown before the traditional #1 spot in SERPs.
The Google algorithms display all featured snippets, and there's no way for website owners to mark a page as a featured snippet. The length of text in a featured snippet is also variable and decided in real-time based on several factors like the keyword, language, and the platform (desktop, app, or mobile).
Some of the common featured snippet types are text snippets, video snippets, list, and table snippets.
Featured snippets are important in SEO as they give the opportunity to get more clicks from the organic search results — even if the actual page is not in the top 3 positions in SERPs.
7. Google Algorithm Updates
Updates of Google ranking algorithms.
Google uses complex ranking systems designed to sort through hundreds of billions of pages all over the Internet and find the most relevant, valuable results.
These ranking systems are made up of multiple sets of algorithms, and these search algorithms look at many factors while ranking web pages in the search results.
To keep the ranking algorithms updated at all times, Google constantly releases algorithm updates.
Most of the updates released are minor and go unnoticed. However, Google announces a major algorithm update every few months that significantly impact the search results.
Some of the major Google algorithm updates released over the last decade include Panda, Penguin, Hummingbird, Mobile, RankBrain, Medic, and Bert.
8. HTML Tags
Small snippets of HTML to add formatting to web pages.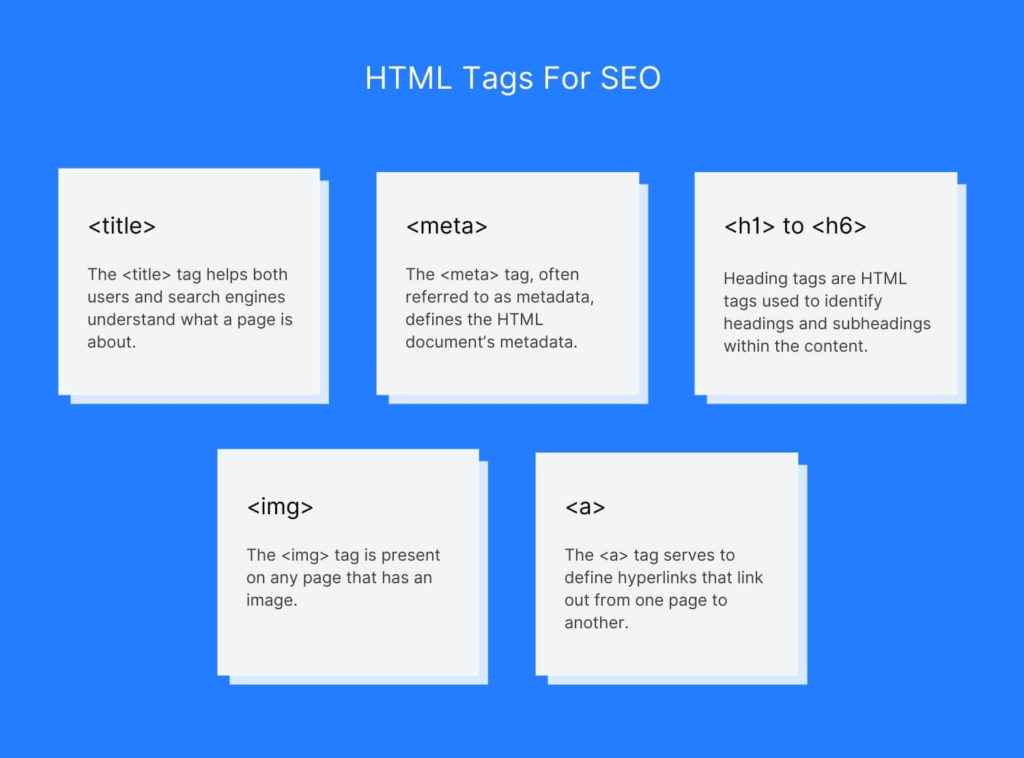 HTML (HyperText Markup Language) is the language in which web pages are created.
HTML is used as the backend of websites where specific HTML code types provide search engines key information on how a page is structured.
These tags are not visible to users as they're present only in the web page code, which search engines crawl to understand the page.
While Google and other search engines can now understand the page even without specific tags, it's still recommended to use common HTML tags (like title, meta, and heading tags) to provide better navigation and experience to users and search engines.
Some key SEO HTML tags are title tag, meta description tag, heading (H1 to H6) tags, image alt tag, link tag, schema markup, canonical tag, and meta robots tag.
9. Internal Links
A link that points to another page on the same website.
These are links from one page of a website to another page on the same site. Search engines use internal links to crawl and discover new content.
Internal links help establish a meaningful website architecture with proper navigation for users and search engines. Strategically used, internal links can pass page authority (or Link Equity) to important pages within the site.
Every website has internal links, but most SEOs ignore these and only focus on backlinks. Internal links, when used properly, can significantly boost a site's performance in search engines.
Anchor text used in internal links should be descriptive and keyword-rich to signal to search engines about the relative importance of that page. Google also recommends users pay more attention to the anchor text used for internal links to help Google and users navigate your site better.
Wikipedia is an excellent example of internal linking. Every topic in Wikipedia is linked from all the relevant pages, making it easy for search engines to crawl and understand everything.
10. Link Juice
Equity passed from one page or site to another.
Link juice or link equity or link authority is a search engine ranking factor based on the idea that some links pass equity (or value) and authority from one page to another (in the same or different website).
It is also referred to as PageRank — the first official Google algorithmic calculation to determine how a site should rank based on the website backlink profile.
The link value can depend on multiple factors like the overall site authority, linking page authority, HTTP status, and more.
For example: if an authority site (like CNN) links to a small website, it tells search engines that the linked page/site can be trusted.
Link juice can be differentiated between external and internal link juice. External link juice is the link equity passed to another domain, while internal link juice is the link equity passed on within the site by internal linking.
11. Keywords
A term or phrase that people type in search engines.
Keywords are words and phrases that users enter in search engines to find answers to their questions.
To rank higher in search engines, you can use keywords to optimize your website pages. The more relevant keywords your website has, the more likely users will find you when they search for those terms.
Keywords are important because they help search engines know what kinds of topics a page is about.
Keywords with only 1 to 2 words are called seed keywords or head terms, while keywords with more than 3 words are called long-tail keywords.
Seed keywords have high search volume with the high ranking competition, while long-tail keywords have low search volume with the low-ranking competition.
12. Local SEO
SEO for Local Search.
According to Google, almost 50% of searches now have a "local intent" (for example: 'near me' and 'location' based keywords).
So SEO that involves optimization to increase traffic and leads from local search is known as Local SEO (Local Search Engine Optimization).
Local SEO is important for local businesses (like a brick-and-mortar business with physical locations) to establish themselves online and promote their products and services to local customers.
Google uses a different set of ranking factors for a local search like the user's location, presence of GMB listing, online reviews, number of check-ins at the location, Google Maps star rating for the business, and keywords used in GMB profile.
So practices used for Local SEO are generally different from the standard (national) SEO. GMB (Google My Business profile), local keywords optimization, and NAP citations are some of the things used in Local SEO.
This is true for all search engines like Google, Bing, Apple Maps, Yelp, etc.
13. Mobile SEO
Optimization of a website for mobile Google search results.
Mobile SEO is the optimization of web pages, particularly for mobile devices (smartphones and tablets). This includes optimizing website design (responsive design), site structure, page speed, and other factors specific to mobile versions of a website.
With Google's mobile-first indexing update, Google uses the mobile version of the content to crawl, index, and rank the web pages.
Google released mobile-first indexing as the majority of users now access Google search with a mobile device. Websites that don't have a mobile-friendly design can lose their ranking in the search results with this update.
To optimize for mobile SEO, it's recommended to keep the same content on desktop and mobile, don't lazy load the primary content, and use the same meta robots tags (noindex, or nofollow tags) on mobile and desktop.
14. Negative SEO
Rare but unethical practice of using Black Hat SEO techniques to sabotage a competitor's rankings.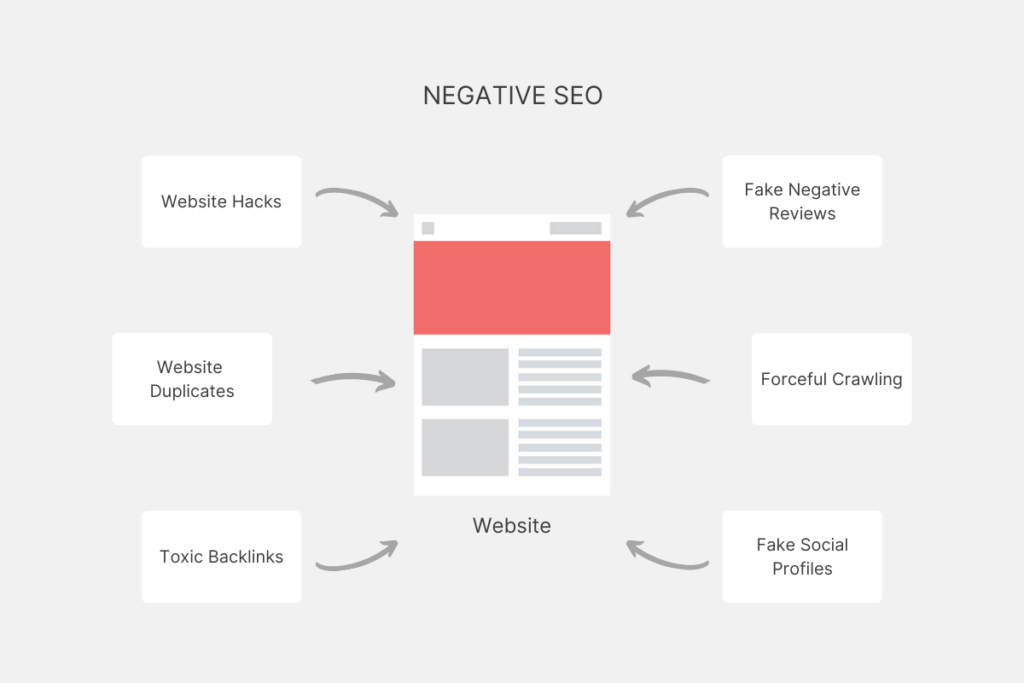 Imagine you're a new startup in a very lucrative market, and you're starting to rank for some highly competitive keywords. But your competitors have a significant amount of SEO resources at their disposal. And they decide to force you out from the rankings. Unfortunately, at that time, negative SEO can be used.
Usually, negative SEO attacks are in the form of building a ton of wrong links, creating fake reviews, content scraping, and even hacking websites.
Google tries to handle these attacks by devaluing all the bad or low-quality links. But if the attack continues, it can easily trigger Google penalties.
Some argue that negative SEO isn't effective, and Google can detect these things and act accordingly. But by using shady SEO tactics, even you can harm your own site. So how can Google the difference between your deceptive practices to your site or anyone else's?
15. On-Page SEO
Optimization of web pages for search engines & users.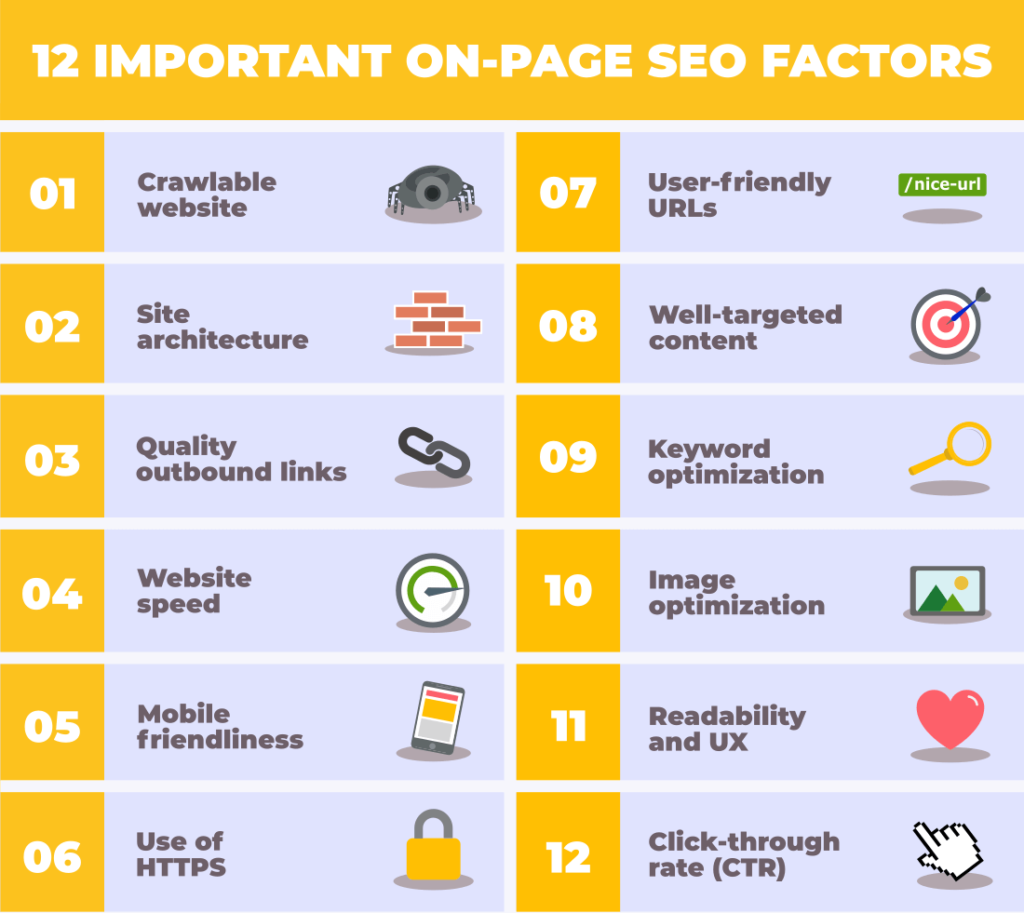 On-page SEO (also known as on-site SEO) is the practice of optimizing website structure and individual web pages to rank higher in the search engines.
It includes the elements of your own website, like the quality of code, user-friendliness, textual and visual factors. Also, unlike off-page SEO, you can fully control on-page SEO.
Common on-page SEO includes optimization of title tags, headings, URLs, content, internal links, page speed, and alt tags in images.
On-page SEO is considered important as it helps the search engines understand your website content and identify whether it is relevant to a searcher's query.
Google is always looking for the most relevant search results, and with proper on-page optimization, a web page can have higher chances of ranking for a targeted keyword.
16. Pagespeed
Time taken by a web page to load.

Page speed is defined as the time taken by your website/webpage to load entirely into a visitor's browser. A page's loading speed can depend on multiple factors like page size, the number of images on the page, site server response, and image compression.
It is important for SEO as Google is using page speed as a ranking factor since 2010. In 2018, Google officially announced The Speed Update, which can affect the ranking of pages that deliver the slowest experience to users.
For the optimal loading speed of web pages, Google provides PageSpeed Insights reports on a page's performance on both mobile and desktop devices, with suggestions on how you can improve the speed of specific pages.
Some ways to increase page speed are Gzip compression, minification of HTML, CSS, and JavaScript, removing render-blocking JavaScript, browser caching, and CDN (content delivery network).
17. Queries
Queries are what users type into search engines.
A search query is a string of text and a combination of keywords that a user types into a search engine to find the answer to their question.
Search queries can often have misspellings, in which case Google automatically corrects them.
Search queries can be broadly classified into three categories: informational, navigational, and transactional.
The difference between a keyword and a query is that marketers use keywords while users use queries. So 10 users searching for the exact same keyword can type 10 completely different search queries in the search engines.
18. Rankbrain
Machine learning-based Google algorithm for never-before-seen queries.
RankBrain is a machine-learning artificial intelligence (AI) algorithm used by Google to better process and understand search queries.
It is a part of Google's overall search algorithm that sorts through billions of pages to surface the best results possible in SERPs. RankBrain algorithm can also learn and improve itself over time — based on the new data points.
In 2015, Google confirmed that RankBrain is the third most important factor in its ranking algorithm.
RankBrain is particularly useful for handling never-before-seen search queries or keywords as it can guess words or phrases similar to the search queries to filter the search results accordingly.
This means that even if your content is optimized for medium tail keywords, RankBrain can assess the page and rank it for thousands of similar long-tail keywords.
19. SEO
SEO is the process of improving the visibility of a site in search engines.
According to Google, SEO is often about making minor modifications to parts of your website. When viewed individually, these changes might seem like incremental improvements, but when combined with other optimizations, they could have a noticeable impact on your site's user experience and performance in organic search results.
So SEO is all about optimizing a site's ranking in the search engines to get organic (non-paid/free) traffic.
When you search anything in Google (or any other search engine like Bing or Yahoo), an algorithm processes the query in real-time to give you the best possible result.
Done correctly, SEO can bring hundreds and thousands of targeted traffic to your site, which will be worth the time and money invested.
As the search engine market is dominated by Google with 92% of the search engine market (Google search, Google Images, and Youtube), you'll find everyone focusing on SEO for Google most of the time. And Google is increasing its focus on the user to provide the most relevant and highest quality information as quickly as possible.
So to win in SEO, you will have to think creatively, produce high-quality content, and prioritize user experience.
20. Technical SEO
Website optimization to help search engines find and index pages.
Technical SEO is the process of optimizing a website according to search engine guidelines to be crawled and indexed.
With proper technical SEO, you can make sure that search engines can access, crawl, and index your website without any technical issues.
It is called "technical" because it focuses on the website backend and server optimizations and not on the actual website content.
Technical SEO is vital because it can influence your rankings in search engines, impact your website behavior, and affect your overall SEO.
Common technical SEO optimizations include robots.txt file, XML sitemap, website structure and navigation, internal links, mobile-friendliness, schema markup, and page speed.
21. User Intent
User Intent is the reason why users perform searches.

The user intent (or search intent, audience intent) defines the user's goal or intention when entering a query into a search engine.
A page needs to satisfy user intent to rank higher in search engines. This means that the page should have the content a user is looking for.
For example, when searching for a restaurant, you intend to find a place to eat, not to learn about SEO.
There are four types of user intent: informational, transactional, navigational, and commercial. To understand user intent, you can enter the query in Google and look at the pages already ranking for that keyword.
By understanding a user's search intent, you can have a better idea of what they are looking for, and you can use this data to further optimize your web page.
22. Voice SEO
Process of optimizing web pages to appear in Google voice searches.
Voice SEO is the optimization of web pages for searches performed using voice assistants (like Siri, Google Assistant, and Alexa).
Google voice search allows users to search for a query through spoken voice commands rather than typing.
According to Google, "Voice search is shaping the future of search as we look to understand the intent and answer questions before people have asked them."
Voice search is one of the fastest-growing types of search on devices like smartphones and smart speakers. Voice searches usually have longer and more conversational queries compared to text-based searches.
To rank for voice searches, you can optimize your pages for conversational queries, target question-based keywords, and write content in natural language.
23. WhiteHat SEO
Optimization of web pages that complies with search engine quality guidelines.
White Hat SEO refers to the usage of ethical tactics and search engine guidelines to optimize a website.
Search engines like Google provide an extensive set of webmaster guidelines that every website listed on their platform should comply with. These guidelines by search engines are often known as "Quality guidelines."
These guidelines are important as they explain the rules every website must follow so that search engines can provide the best search results to users.
The opposite of white hat SEO is black hat SEO, which means using risky practices to optimize websites to rank higher in search engines. There's one more terminology, Gray Hat SEO, a mixture of both white hat and black hat SEO.
24. XML Sitemap
List of website URLs to help search engines navigate.
A sitemap is a file where you can provide a list of URLs about the pages, images, videos, and other files on your website.
Search engines use bots (crawlers) to find the URLs and crawl websites. Sitemaps act as a roadmap of the website and help search engines find URLs fast.
It also helps search engines establish the relationship between the URLs — the importance of pages, how often the page is updated, and any alternate language version of a page.
If your site is properly linked, search engines can find your content even without sitemaps, but even then, a sitemap can improve crawl efficiency and reduce crawl errors.
Sitemaps are especially beneficial for large and complex websites with URLs over 50,000. As the crawl budget is limited for every site, if the essential URLs aren't easily accessible, Googlebot can skip crawling, leading to no indexation of those pages. Without indexing, there's zero chance of pages ranking in Google.
XML Sitemaps are not related to search engine rankings; they only allow search engines to discover your site.
25. Youtube SEO
Optimization of videos to rank higher on Youtube.
Youtube is the second largest search engine in the world after Google search. And YouTube SEO is the optimization of YouTube videos to make them rank higher for targeted keywords in the Youtube search engine.
According to YouTube, "videos are ranked based on various factors, including how well the title, description, and video content match the viewer's query. Beyond that, we look at which videos have driven the most engagement for a query. Search results are not a list of the most-viewed videos for a given query."
YouTube SEO includes optimization of keywords in the video title and description, closed captions, thumbnails, and more!
26. Zero-Click Searches
Where the answer to a search query is displayed at the top of a Google search result.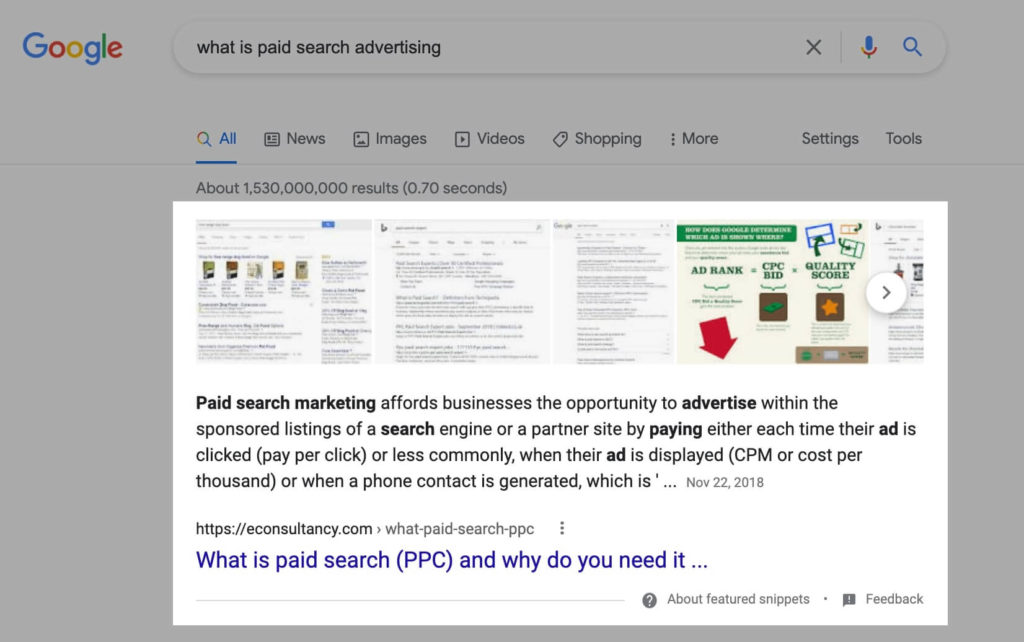 Zero-click searches (also known as no-click searches) happen when the answer to a user search query is displayed directly at the top of a Google search result page.
Google pulls text snippets from the web pages to answer the user query directly on the Google page, eliminating the need for a user to click any further.
While this is beneficial for users, zero-click searches affect website owners as they get zero clicks even after helping them with their questions.
Types of zero-click search results include featured snippets, instant answers, map results, calculators, definitions, and knowledge panels.
———
Thanks for reading. I hope you find this SEO Glossary useful.
If you liked this handbook and want to learn more on SEO-related topics, joining my newsletter is really appreciated, or share it with your friends on social media.